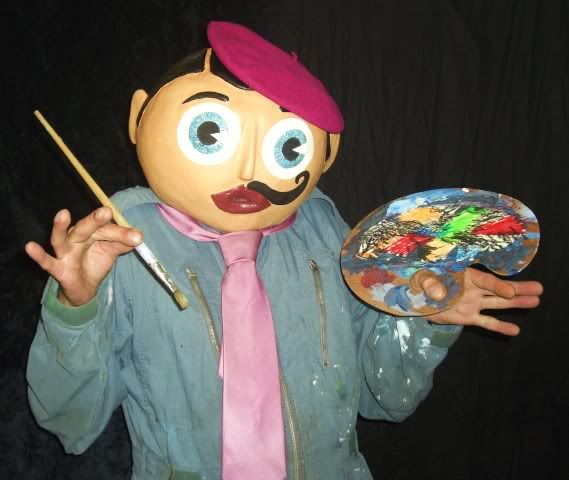 ___________________________________________________________________________
hello fantastic fans,…
i've been helping mick jones and lynton talbot put a art exhibition together,…
it starts next week (12th march 2010)at "the chelsea space" gallery next to the tate in london.
here's me there last time in 2007.
this show is called " shoul i stay or should i go" and runs from the 12th march till the 17th april. … but there is a special private opening night next week on the thursday,… and we'll all be there,… if you want to ? then subscribe to my blog ( on www.myspace.com/franksidebottom ) as the next one will have details on how you can (first come first served)…… i'll be playing some clash songs too !!!
plus there sre special posters we've done… look out for them around london,.. or buy one of the special limited adition of 50 ones… money goes to help support the gallery !.
best regards
frank sidebottom
www.franksworld.co.uk
and if you want to book me for a concert,… a art thingy,… or just opening a short section of motoway,…..
then ring karen on 07784 477385 or email her at bookins@vanquishmusicgroup.com
hello fantastic art fans
ace news,…. the "frank's world" mosaic is coming to
live in timperley…. (details to follow on the next blog)
here it is when i unvailed it at the tate gellery in london in 2006…
coming up art events include…..
*** november 2009 @ the revolve galley in the triangle, manchester…
a 6 week exhibition of some of my work, with a chance to buy copies of some special 100 only limited edition signed prints. i shall be there at 6pm to open the exhibition and help poor out the pop.
*** thur 4th march (2010) @ the chelsea space, millbank, london (next to the tate)…
i'll have more of my work exhibited over the 3 week run as part of "the best of the last 5 years" of artists who have had stuff in there…. (my last show there – was voted "3rd best art exhibition of 2007" by matthew higgs of new york's
"arforum" magazine, i can only assume that the 2 who beat me must've stayed inside the lines when colouring-in !!!) …i'll also be there for the opening of that at 6pm.
*** shows to follow next year (2010) in new york,…. and 2011 in tokyo….. (keep loggong on).
me and the dalek outside the "chelsea space" after our performance of samuel beckett's "waiting for godot".
in the background is the tate,…. where i premiered my "frank's world" animation and had a exhibition of stuff (and sang !)
______________________________________________________________________________
*** sat 18th july 2009 @ kendals shop window on deansgate, manchester…
i'll be there in the window painting all day, playing live songs, and projecting my films…….a sort of "mixed-multi-media performance art extraviganza" !.