hello fantastic fans,…
and a big "thank you" to all who have come to see me on my shows with john cooper clarke over the last few months,… you have all been brilliant… and there may be plans for me and clarkie to tour ireland !
the last two nights at the assembly rooms in derby, and the leadmill in sheffield were being filmed for a documentry to be shown on the bbc (autum ?) and they did a interview with me too to go in it…. also they filmed both nights when i joined jonny onstage with my guitar to perform "36 hours" with him,… and we are getting a copy of that to go in the next "timperley tv"
here's a yutube clip someone posted from sheffield,…..
my next solo concert in this friday (4th june) at the parr hall in warrington,.. where i'll be playing two sets along with my stupid ventrilloquist puppet !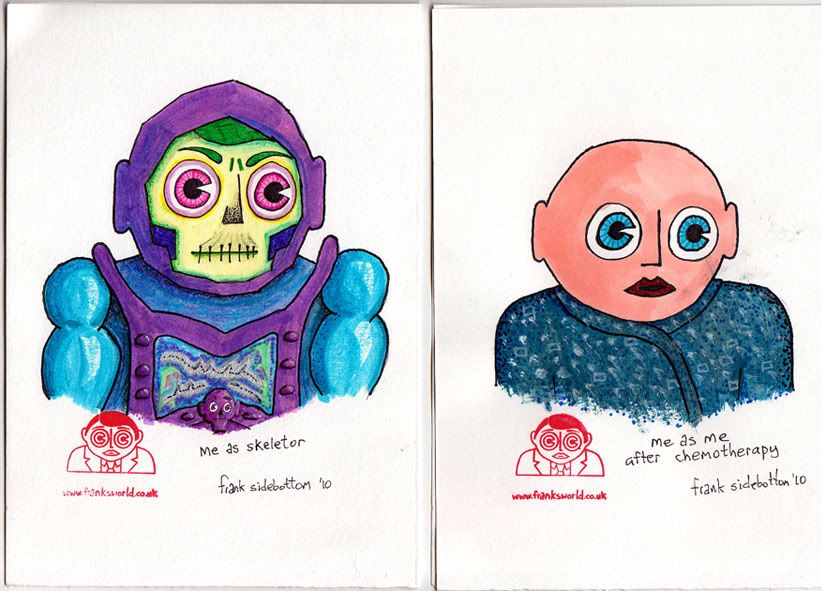 the "me as me after chemotherapy" artwork (above right) sold for £480 ,.. wow, that is fantastic and all the money will be going to cancer research,… i am talking with the mcmillan cancer trust,.. and they may do a limited edition run of signed prints of it !!!
but it was a brilliant responce from you lot,… and it had over 14,500 views !!! (that's bazzin' for somthing on ebay !)….. my "me as skeletor" is up there at the moment,.
to view it click —> http://lnk.ms/7jgkh
i never seen any reviews for any of my releases ever,… and thought there were none !
but here's one mr. routledge spotted,..
thank you also to all who are tuning into "radio timperley" every sunday,.. and if any bands want a bit of airplay on my show,.. then send me a record, cd or cassette (no mp3's, downloads,files,… i don't do them !).
send to ~
frank sidebottom's radio timperley show,
manchester radio online,
88a millar street, manchester, m4 4dy, uk
and if you want a free "radio timperley" podcast…
click on www.radiotimperley.com

full details of my next "magical timperley tour" on the 4th july will be going out this week,… so subscribe to my blog now,.. or you ay not be on that open top bus with me !!!!
see you in warrington on friday,… and my world cup single "three shirts on my line" will be out by the end of the week !
best regards
frank sidebottom
www.myspace.com/franksidebottom
www.franksworld.co.uk