hello fantastic fans,…
here's a pic of a rare "timperley rescue sidie" i made back in 1990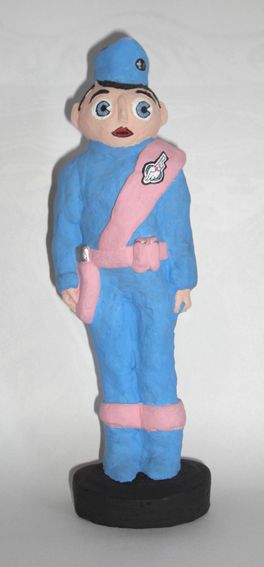 these "sidie's" were about 10 inches tall, a sort of cross between a action man and a garden gnome !!!,… and aswell as the "timperley rescue" ones,… there were also some done in regular grey suit/pink tie.
i gave most of them away to tv presenters and dj's who helped my showbiz career in the early days,.. a few for magazine competitions/stage quiz prizes,… and sold a few to fans for "11.37p each.
i made about a hundred or so,… and they were all numbered… these now go for a very very lot of money !!! ( i borrowed this one off mr. alston to photograph,.. as i don't even have one myself !)
i've got a ace picture of "me as brains" on ebay
click on http://lnk.ms/8JzjM
there's other stuff going up this weekend too !
here'a a canvas i painted of me and dave haslem !!!
and here's me painting it live on channel m !
there will be a open top bus tour of timperley plus a concert at the l.m.r.c.a. club in altrincham,… both being planned for the 4th july…details to follow in next blog…. on www.myspace.com/franksidebottom (subscribe now)
thank you to all who came to see me and my "oh blimey big band" at the buffalo bar in london last thursday,… what a bazzin' night !
this week i'm playing at the oxford acadamey on tuesday with my mate john cooper clarke,… and i'm also doing shows with him in leeds, sheffield and derby next month too ! and i'll be doing some of my own poetry (plus music)at the "oxford pub" on deansgate in manchester next saturday (2nd may),.. i'm onstage at around 8.30,..
staright after my "radio timperley show" which you can hear @ www.manchesterradioonline.com ' 7pm uk time ( @ 11am in l.a. @1pm in texas, @ 2pm in new york and 8pm in berlin etc).
best regards
frank sidebottom
www.franksworld.co.uk
the new "timperley tv 2" will be up this week