hello fantastic fans,….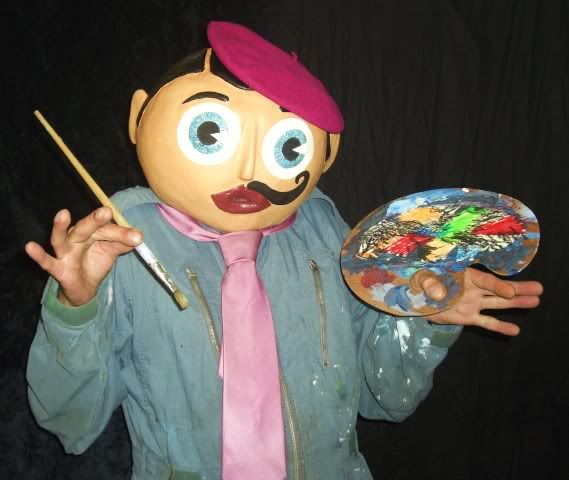 … and part 3 starts in july,… when i did the fantastic altrincham festival parade, which goes all the way to timperley ~ where they have a fun fair !!!
… and realising that the deadline for the "coney island film festival" was looming,… i got brian (from reema-leema) to come and do a bit of footage of the parade and me at the funfair,… which we then cut together to make this…
…. a slightly different version was also premiered at my show at the lowry theatre, but not before i'd been in kendals shop window for the day,… painting live for the passing shoppers !!!
…. then it was off to salford lads club,.. to film the "fifa 10" advert with wayne rooney,..
there were different versions of this for different countries,.. with different teams etc,..
… but i'm in them all …. that's good !
(if you want to surf the net,.. you'll find some documentries in of me and wayne making the advert !)
…. then there was more radio to follow throughout july,… with me doing bbc radio humberside, iain lee's show and cheshire fm,… aswell as my weekly "radio timperley" sunday show on manchester radio online….. plus loads more concerts…
… here's me backstage with billy childish and the musicians of the british empire.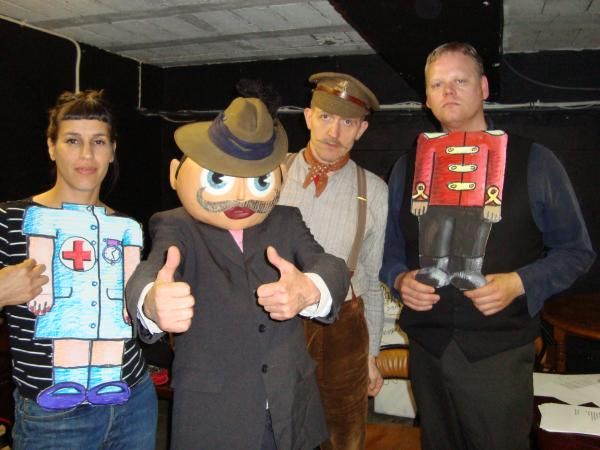 … and with channel m sacking 43 members of the music department,.. we made one final attempt to finish my "proper telly show in b/w" series,.. filming down on mike joyces allotment with my mate charlie chuck !
… after channel m going,.. there was the start of my "reema-leema telly show" on tin can tv…. which ran for 2 episodes,… before tin can stopped transmission !!!
… i also started the "me as,.." series of art pics, and putting them on ebay…
and august saw me back with all the punks in blackpool at "rebellion 09″…
more concerts followed,.. like leeds uni (which i did with john cooper clarke,.. and i was asked would i like to do a uk tour with !!!), the buffalo bar in london, preston's derby arms, frog & bucket, plus i was also still doing my every second sunday of the month at the l.m.r.c.a. club in altrincham,.. with a different theme each month… which "batbottom & bobbins" made a appearance at….
… which takes us up to the end of september…
part 4 of my "review of 2009" see's me head back to new york, germany, the uk plus of course the release of my "efg &h" album….. plus the start and stop of my uk tour johnny clarke ….. subscribe to my blog on www.myspace.com/franksidebottom now so you don't miss it
best regards
frank sidebottom
www.myspace.com/franksidebottom
p.s. my latest ebay listing is ….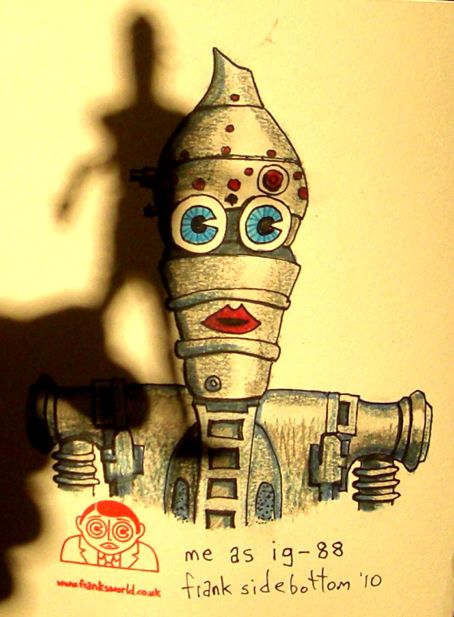 to view it… click on —> http://lnk.ms/5n61j
but hurry, as it runs out on february the 14th…
… and talking of february the 14th,.. i'll be sending out some downloadable artwork as a bulletin next week,… so you can make your own "valentine's card for the one you love (how soppy is that !!!)…
…and also talking of february the 14th… i'll be doing my "radio timperley" 1 hour live sunday show at 7pm uk time (3pm in new york, 8pm in berlin etc) on www.manchesterradioonline.com
…and talking of february the 14th… straight after my "radio timperley" show has finished,…. you'll be able to watch episode 1 of my new "timperley tv dot me" telly show, which i was filming stuff down at dunham park in the snow for yesterday !!!…. details on 'how, when & where' to view i, will follow next week (subscribe now!) … but here's a sneak preview..
Check out this video: ttv ep 1 vers 2