hello fantastic fans,….
if you just got a cat ,…. what would you call it ????
i'm finishing off some ace tracks this week for some u.s.a. releases !!!
i'll have full details in my next blog…..
but on one of them will be this one…..
my next concert is on friday (27th nov) @ the "vic club" in goole,… where i'll be suporting myself,… so it's a full night with me… and it's a ace £4.73p to get in, and there will be loads of original prizes to win (made by me) on the night !!!
full details are on my "shows" list on www.myspace.com/franksidebottom
here's a rare interview i did on 22nd july 2007 for bbc television,… it has been broadcast a couple of times, as part of a show called " citezen smith"
it'll soon be christmas,… and there are loads of shows i'm doing up to christmas,.. on stage,… on the radi,… and on the telly ….
you'll hear about them here first,…. so subscribe to my blog now,… and you won't miss out !!!
thank you to everyone who tune into my sunday's "radio timperley" show,… i'll be back on next week (sunday 29th nov) @ 7pm uk time (3pm new york, 8pm berlin etc etc) ,.. and if you'd like your tracks played on it,… just send me a record or and cassette or a cd (no mp3's, waf's etc) to —-
frank sidebottom's radio timperley,
c/o manchester radio online,
parkview,
manchester m9 5sh, uk
…….. and i'll play it in my "timperley top ten" !
best regards
frank sidebottom
www.franksworld.co.uk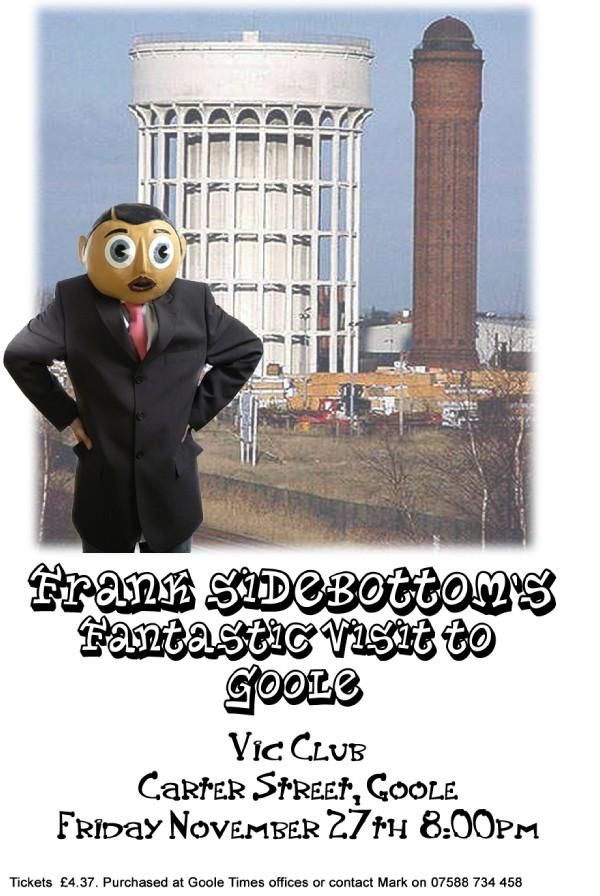 my new " efg&h" album is out,… and will make a ace stocking filler…
to view the 31 track's or to buy….
just click —> http://cgi.ebay.co.uk/ws/eBayISAPI.dll?ViewItem&item=230398484058&ssPageName=STRK:MEWAX:IT
p.s. my mates max and sef have just got a cat,… and can't decide on a name….
i say it should be called "no name" !!!! what do you lot think ???