hello fantastic fans,…
well while you read this,… i'll be off in germany doing
2 shows at the "ballroom bash" festival in leipzig…..
they use euro's there now you know,.. !!!
anyway,… here's part 2 of my "fantastic shed show",…
(part 3 will be on my next blog ~ subscribe now !)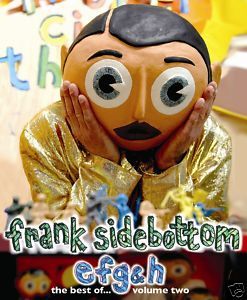 well as you probably all know now,… my "e f g & h" album
is now out on cherry red records,… (cdbred 389)….
and you can get it in the shops for under a tenner,…
… but to read the ace new sleeve notes i've written which
are not on the sleeve (?) just click on —> http://cgi.ebay.co.uk/ws/eBayISAPI.dll?ViewItem&item=230387762344&ssPageName=STRK:MEWAX:IT
here's a bit of my union chapel performance and poetry show
from last saturday afternoon in london…..
my ghost toaster is on it's way for halloween,…. !!!
i'm fightened already and i've not even painted it yet !!!
best regards
frank sidebottom
www.myspace.com/franksidebottom
p.s. see you in brighton at the albert on the 7th for a fireworks special !!!
… and finally here's a clip from the last l.m.r.c.a. show…
the next one on the 8th nov is a star wars/fireworks exstraviganza….