hello fantastic fans,…. (posted tea-time tuesday 13th oct 2009)
as you know,… my new "e f g & h " album comes is out
in the shops on monday the 19th october…..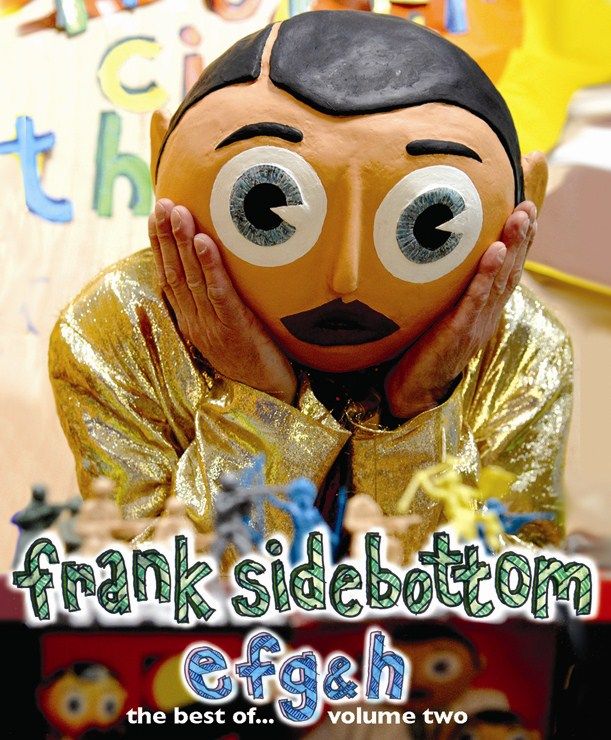 but if you order it now from me… you get 2 exclusive badges free with it,..
and you'll be listening to it over the weekend while wearing the badges !!!
for details…. just click on —> http://cgi.ebay.co.uk/ws/eBayISAPI.dll?ViewItem&item=230387762344&ssPageName=STRK:MESOX:IT
offer closes at mid-night tomorrow ( for first class post on thursday)
p.s. this exclusive offer is only for uk fans…. sorry,… but it's the postal system !
anyway,.. a big "thank you" to all who came to see me play my 3 shows in new york last week, and also everyone who's been following me and my mate john cooper clarke on our current tour round the uk,…. you've all been bazzin' !,…..
but,… yes – at last,… my new album is out,…..
…and if you'd like the full 31 track listing,… along with some special notes i've written for each track (not on the sleeve notes !!! but are even better than them !!!)….
then just click on —> http://cgi.ebay.co.uk/frank-sidebottom-s-efg-h-bazzin-new-cd-2-badges_W0QQitemZ230387762344QQcmdZViewItemQQptZUK_CDsDVDs_CDs_CDs_GL?hash=item35a42e44a8&_trksid=p3286.c0.m14
anyway,………. while i was in new york,… i also went to the coney island film festival,… where they showed my new pop video "the great big thing behind my head"….
but if you didn't make it to coney island,…. then you can watch it now on my new
"reema-leema telly show" (episode 2) on www.tincan.tv
i've still got 3 more dates with j.c.c. this week @ –
*** fibbers in york ~~~ on wednesday the 14th
*** the masque in liverpool ~~~ on thursday 15th
*** the ruby lounge in manchester ~~~ on friday the 16th…
here's a clip of me onstage at the camden barfly last thursday…
…. with a very big little frank fan getting involved ! (stupid girl !!!)..
then i'll be finishing off the week on saturday the 17th with 2 shows in london @ –
*** the union chapel for some early afternoon music poetry (!)
*** then a evening concert at the bizzarre ball…
(full details of all dates are on my "shows" list on www.franksworld.co.uk )
again,… "thank you" for all being such ace fans,….
…. and i hope you like my new "e f g & h" album on cherry red (cmbred 389),..
i know you will,…. you really will,…
thank you.
best regards
frank sidebottom
www.franksworld.co.uk
p.s. don't forget this sunday night at 7pm uk time (2pm in new york etc)…
my 1 hour live "radio timperley" show on www.manchesterradioonline.com