hello fantastic fans,….
oh blimey,… what have id done ?????
i've signed up to play in a charity football match with robbie williams, jamie cullan and paul heaton etc in a "pop v rock" match,… and i've not told them about my bad knee !!!!!
hey,… if you want a free curry with your concert with me,…
then next week's show on tuesday 29th oct at the "frog and bucket" on oldham street in manchester is the one for you… (my mate greg cook is also on !).
…. and don't forget this friday (25th) i'm back at the "bitter suite" in preston.
…. and here's me in that football ad….
my new "e, f, g & h" album starts to roll off the press today…
but i don't think you can buy it till october,….
so in a few weeks i will be deleating all my current cd's on ebay,…
… so if you want one of these with a free badge,… hurry up.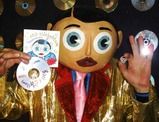 to view, click —> http://cgi.ebay.co.uk/ws/eBayISAPI.dll?ViewItem&item=230377523960&ssPageName=STRK:MESOX:IT
…… here's some lads having fun on youtube !!!!,…. (that's good !)
if you cant get to coney island next week,.. don't worry,…
just read my next blog for details on how you can experience the world premiere of ,……
"the great big thing behind my head ~ frank sidebottom saves coney island"
(subscribe to my blog now !!!)
*******************************************************
the first "reema-leema telly show" is now up on www.tincan.tv,…
there's a bit of super 8mm in it,…
but this isn't on it !!!!……
but it is on this….
"the bigshorts" kick-off at 11pm today at timperley rec….
www.clubwebsite.co.uk/timperleybigshortsfc
also "the bigshorts" are off to a flying start last sunday!!! beating 'dane road central' 8-2
(so with 11-0 win aswell ) we are now at the top of division one …..
here's me at boundary park,.. when it was a proper football ground !
for all the latest "bigshorts" news …..
click on —> www.clubwebsite.co.uk/timperleybigshortsfc
here's a ace poster for next months new york show at the webster hall…
i'll be putting together all the details for the u.s.a. shows today,.. so keep logging
on (or subscribe) for all the latest news…
here's me onstage at "otto's shrunken head tiki bar" in the lower east side from
april 2009 when i was last there,… i'll be playing there again in october !
…. and here's another clip from april's new york shows,…. this is the 169 bar…
best regards
frank sidebottom
www.myspace.com/franksidebottom
!