hello fantastic fans,…
and a big "thank you" to all who came to see me over the weekend at the
"timprley country fair" and the "l.m.r.c.a. club" ,.. a bazzin' time was had by all.
also "the bigshorts" are off to a flying start !!! beating 'dane road central' 8-2
(so with last weeks 11-0 win) we are now at the top of division one …..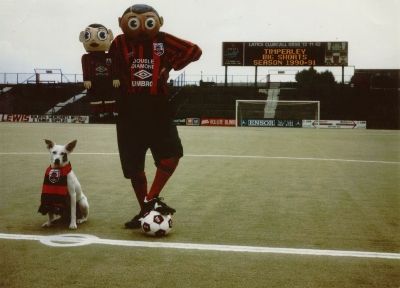 here's me at boundary park,.. when it was a proper football ground !
for all the latest "bigshorts" news …..
click on —> www.clubwebsite.co.uk/timperleybigshortsfc
here's a ace poster for next months new york show at the webster hall…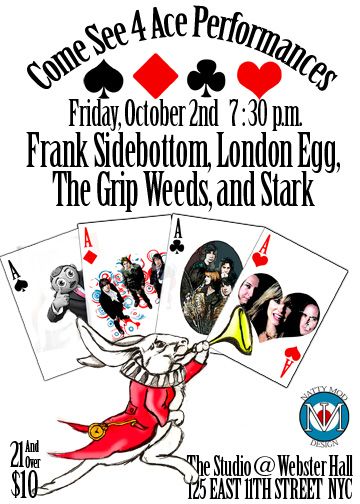 i'll be putting together all the details for the u.s.a. shows today,.. so keep logging
on (or subscribe) for all the latest news…
here's me onstage at "otto's shrunken head tiki bar" in the lower east side from
april 2009 when i was last there,… i'll be playing there again in october !
…. and here's another clip from april's new york shows,…. this is the 169 bar…
my next two shows in the uk this month are…..
*** the bitter suit in preston ~ friday 25th september,…
*** the frog and bucket in manchester ~ tuesday 29th september,…
then when i'm back from philadelphia and new york,… i start a uk tour
with my mate john cooper clarke !!! …. full details in the next blog !
best regards
frank sidebottom
www.myspace.com/franksidebottom
p.s. i had some bobbins glitches with my "radio timperley"
outside broadcast over the weekend,……
but you can listen now online @ www.tincan.tv
where the new "reema-leema telly show" will also be up this week…
here's a interview with me for "the experience" by don stugots and regina
from oct 2008, when i went over to see my fim in the "coney island film festival"….
no,…. i can't hear it either,… 'cause of all the train noise at the top of surf avenue..
but i'd arrived a week late due to the time difference !!!!!
but this year i will be there !,… to "save coney island" !