hello fantastic fans,…
i've just got myself a new pink tie,… ready for me to take on the show-biz world over the next month or so….
(i've stuck my old one on ebay, with the starting price of 1p !)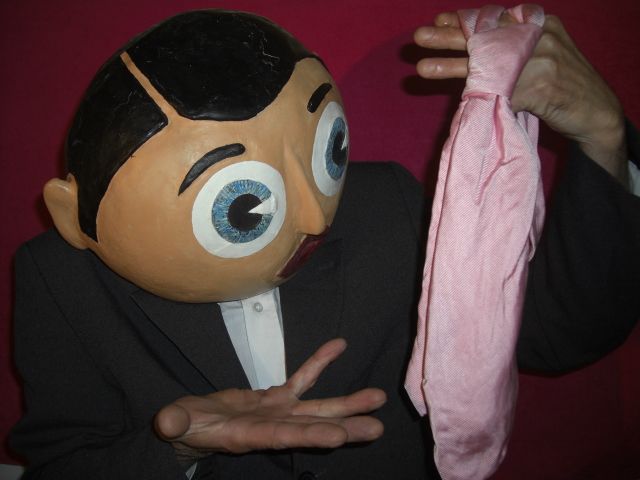 this wednesday,…. i'm doing a ace concert at the mine theatre in leeds university
at 7.30pm straight after they have shown a 90 minute "fleshtones" documentry film
of them in new york… (putting the "c.b.g.b.'s story" straight !)
my mate john cooper clarke is onstage after me…. (he's good !)
and in the daytime,… they've got my mates john robb and dave haslem doing talks
along with paul morley,…. it's all part of a ace post-punk day !!!
did you hear my "radio timperley" beatles special last week ????
(if you missed it,… it will be online in the next 7 days)…
on this week's sunday show, i'll be playing more of your tunes that you've sent in
trying to get into my "timperley top ten"…. tune in at 7pm (uk time)
to ~~~ www.manchesterradioonline.com
(sunday 11am in l.a. ~~ 2pm in new york ~~ 8pm in berlin etc etc)
here's me doing a audience request at the salutation pub,….
i'm back at the sally in october,… after my uk tour with john cooper clarke….
which is after my visit the the u.s.a. to see my "great big thing behind my head"
pop video in the "coney island film festival" ,….
it's coming out on a 10″ fairground colored vinyl only release with 7 other tracks
under the title of "frank sidebottom saves coney island" (koi records).
this friday (11th sept) see's me at the derby arms (lonbridge) in thornley ,..
and sunday (13th) i'm back for a top night of semi-professional show-biz at the
l.m.r.c.a. club in altrincham, with prizes gallore to win too!!!
here's some felt-tip pen artwork i did last week while i was resting my knee…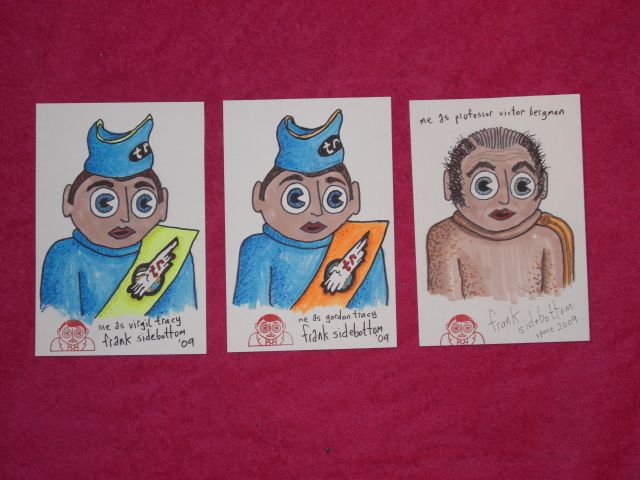 you can win them on ebay,… along with cd's, dvd's, t-shirts and badges you can
buy from me…. but remember,… most will be deleted when my new "e,f,g & h"
album comes out on cherry red records.
also this week see's the first broadcast of my new "reema-leema telly show"
it's 30 minutes long,… and you can tune into it on www.tincan.tv
(where you can also hear my tin can "radio timperley" show !)
my u.s.a. dates are being added to all the time,… there will be a show in philidelphia
on the 1st of october and the sunday now has a early show at "otto's shrunken head"
followed by "the cake shop" in the lower east side… and don't forget that my show
at the websters hall on the 2nd is being filmed for broadcast on bronx and new york
cable telly,….. (my "mahattan test card" show follows soon)
well that's it for now,… i'll update this blog in a day or so (why not subscribe !)
or keep a eye on my "shows" list on www.myspace.com/franksidebottom
or "latest news" on www.franksworld.co.uk
best regards
frank sidebottom
p.s. my sunday football team – "timperley bigshorts f.c.", kick off their season today against the bricklayers arms – www.clubwebsite.co.uk/timperleybigshortsfc for all the
latest scores, fixtures, tables and news.
get your "bigshorts" puzzle and badges now….
to view,… click on —> http://cgi.ebay.co.uk/ws/eBayISAPI.dll?ViewItem&item=230367882460&ssPageName=STRK:MESOX:IT
and finally,…. here's little frank and his girlfirend (little denise) as,…
…. "the musicians of the british empire" !