hello fantastic fans,…
well what a washout wet weekend of a bobbins bank holiday was that !!!
infact the whole of august has been pretty bobbins ( what with my knee and all that).
i spent most of the weekend on ebay selling my stuff and buying stuff too –
( i got a 1980 ig-88 figure and a card to go with it, how good is that!)
but don't worry,… september is here,… and with it comes loads of songs,…
(and the sun is even shining here in timperley as i type)
for a start,… there are 31 songs coming your way on my new "e, f, g & h" album
which is coming out on cherry red records,….
and more than a handfull of songs on my "frank sidebottom saves coney island"
u.s.a. 10″vinyl release on koi records (on a fairground coloured disc).
then there are new songs to be heard on my "radio timperley" shows on
www.tincan.tv and www.manchesterradioonline.com ,… both shows are different and full details are on www.myspace.com/radiotimperley
and if any bands want their tunes played on my sunday show,.. then send a cd to
frank sidebottom, c/o manchester radio online, parkview, manchester m9 5sh.
i did a brilliant 1 hour "beatles special" on it on sunday … with a interview i did with pete best ,…. if you missed it,… you'll be able to download it later in the week.
here's me doing a "beatles" request from the audience,….
and i'll be singing loads of songs this september on ~~~
** friday 4th @ diva's showbar in chester
** wednesday 9th @ leeds university
** friday 11th @ the derby arms (longbridge) thornley
** sunday 13th @ the l.m.r.c.a. club in altrincham
** friday 25th @ teh bitter suite in preston
** thursday 29th @ the frog and bucket in manchester
(then i'm off to new york again for a week, for shows, radio and telly !)
then for those of you who log onto www.tincan.tv you'll be able to watch my new
"reema-leema telly show" which starts this week ,…
and i'll be singing songs and showing my pop video's on that too !!!
so there you have it,… all the good news for september…
best regards
frank sidebottom
www.franksworld.co.uk
p.s. ….. now the bobbins bad news,…
because of my bad knee,… my doctor sais i'm not allowed to go up and down
the stairs,… or do loads of walking till i have my operation….
which means,… i'm going to have to cancel the
"magical timperley tour" till a later date…. (sorry)
also with my new releases coming out in spptember,… i'm going to be deleteing
all my cd's which are currently available from me on ebay….
so it's your last chance to buy things like –
my "fantastic tales" cd, my "firm favorites" cd my "radio timperley" cd and
my "soundreel a" cd…..
my "timperley bigshorts" puzzle and badges set…
my ace fantastic and top t-shirts…
or my "frank's world" animation on dvd…
to view, just click on —> http://cgi.ebay.co.uk/ws/eBayISAPI.dll?ViewItem&item=230358869541&ssPageName=STRK:MEWAX:IT
(or type in "frank sidebottom" on ebay)
i'm back at the l.m.r.c.a. club on the 13th (see film and poster below)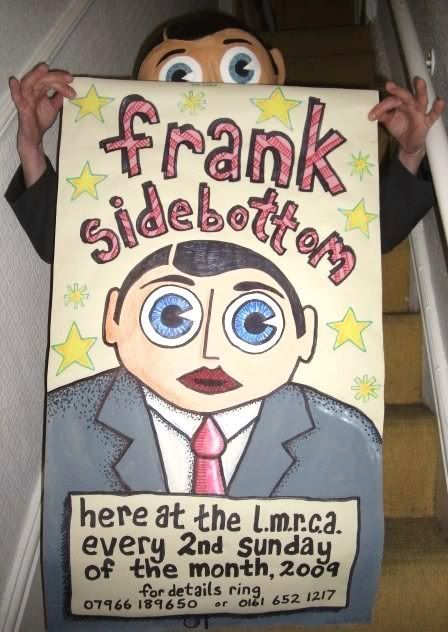 but every cloud has a silver lining,…. and because i can't go up and down stairs,..
my mum has to wait on me with loads of food, comics and home made lucozade,..
and i don't have to mow the lawn this week !!! (brilliant!)
*** before you all ask again ,…..
the recipe for homemade lucozade is ~~~
1. some sparkling water
2. a egg
3. a packet of "cheesy wotsits"
…. and access to your mum's blender !!!
(it tastes the same,… but looks a bit cloudy with bits in !)