hello fantastic bulletin fans,….
i hope you all had a ace bank holiday weekend,….
i didn't,.. it just rained here in timperley….
what was it like where you were ????
september see's the launch of my "e, f, g & h" album on cherry red records.
it has 31 tracks on it,… half cover versions and half wriiten by me (in green biro),… it includes links between the tracks done by me and little frank,.. and a few rare "radio timperley" clips like "pirates" and "tex sidebottom"…. and the 'potential hit record' "mr. custard" in full stereo !!!
it'll have a full colur booklet with it with sleeve notes written by me,… and will be in the shop's record racks somewhere between "sha-na-na", "sinead o'conner" and "the smiths"!….and it open's with my fantastic cover version of "panic".
see you at chester's "diva's showbar" on the 4th september,..
and at the l.m.r.c.a. club in altrincham on the 13th …..
best regards
frank sidebottom
www.myspace.com/franksidebottom
www.myspace.com/radiotimperley
www.myspace.com/timperleybigshortsfc
p.s. don't forget that my "firm favorites" cd is going to be deleted in september,…. so it's your last chance to get it !!!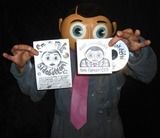 to veiw, click —> http://cgi.ebay.co.uk/ws/eBayISAPI.dll?ViewItem&item=230358869541&ssPageName=STRK:MEWAX:IT
…. and don't forget…. you can listen to my tin can "radio timperley" anytime of the day @ www.tincan.tv