hello fantastic fans,…
what a ace weekend,…..
what brilliant shows at "rebbellion" and the l.m.r.c.a. clb….
thank you to all who came to both and made them so fantastic…
and thank you to all who listened to sunday's "radio timperley" show.
….here's me onstage at the l.m.r.c.a. club in my "timperley bigshorts" away kit….
… also i won 2 – 0 at subbuteo (fair and square this time,… no cheating !)
here's a very rare bit of testcard,.. which only went out once,…
… for the launch of their breakfast show (2007)…
dates are going in for me to do some shows with my mate john cooper clarke..
so far….
october 10th in cardiff, october 14th in york, 15th in liverpool and 16th in manchester.
(keep you eye on my "concerts" list for details & updates…)
here's little frank modelling one of my t-shirts…. (he's bobbins at modelling !!!)
you can get them on ebay just click on —> http://cgi.ebay.co.uk/ws/eBayISAPI.dll?ViewItem&item=230364855105&ssPageName=STRK:MESELX:IT
don't forget that next month i'm running my "magical timperley tour" open top bus trip
round timperley,… with a few special ace stop off suprises !!! there will only be 3 trips,
and only 30 can fit on each top deck trip…. so book early…
(see my concerts list or phone mr. alston on 07966 189650)).
best regards
frank sidebottom
www.myspace.com/franksidebottom
p.s. new cd's and badges and puzzles being added to e-bay this week !!!
….. and don't forget to listen to my 1 hour "radio timperley" show
every sunday night @ 7pm uk time @ 2pm new york @ 8pm berlin etc
(tell me the time where you live ???)
listen in on ~ www.manchesterradioonline.com
oh yes,…..
everybody keeps asking me if they can get the badges that i do at concerts on mail-order…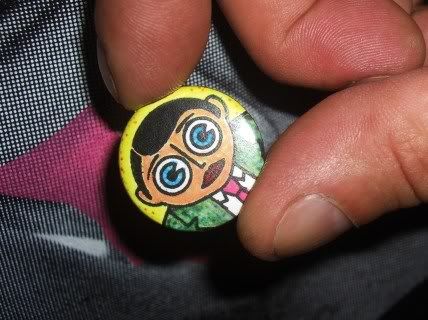 i'm working on it this week….. (keep a eye on ebay)
meanwhile….
there's a few radio things coming up over the next week or so….
which you can come and meet me at….
*** wed 19th aug – i'll be doing the real radio breakfast roadshow
live from the arndale centre, in manchester… (8am till 9am)
*** fri 21st aug – i'll be on the 4th plynth in trafalgar square, london
for the "tin can" launch of radio timperley's show with them. (3pm -4pm)
*** radio timperley interview with pete best of the beatles…
(30th august – beatles weekend, liverpool, details to follow)
p.s. he's a rare film of me doing a couple of eddie's songs,…
live in timperley with my "oh blimey big band"…..
<embed src="http://www.youtube.com/v/yWUnb-xxfDc&hl=en&fs=1&" type="application/x-shockwave-flash"