hello fantastic fans,…..
well what a ace fantastic and top weekend that was,….
with my art thingy in kendals shop window on saturday, where i spent 4 hours painting sketching and drawing with the public watching…. then my ace concert at the gasworks in bradford on sunday night with my mate charlie chuck,… and a top "radio timperley" 1 hour show playing some of your brill tunes you've sent me….
that's the portrait i did of paul mcartney (which is now on ebay),… and i did loads more pictures too,…. (see my new "my ace art" photo album on www.myspace.com/franksidebottom ).
you'll be able to view all the pictures i painted live in kendals shop window at my next art exhibition which @ the revolve gallery in manchester in october…..
i'll be there for the special opening night on 8th,.. and popping in to do more stuff during it's 6 week run.
here's a clip from last weeks l.m.r.c.a. club show… let's hope aberdeen football club adopt it as their new official anthem….
my next l.m.r.c.a. show will be a special subuuteo festival with 5 pitches all playing games…. bring your own team (or borrow one of mine)
the very rare 1985 recordings "firm favorites" cd is also now on ebay,… but only till september when it will be deleted for good… buy it now and help comic releif !.
(it has some rare bonus material of me and little frank re-creating some classic monty python sketches).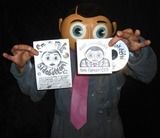 my " frank sidebottom saves coney island" 10″ vinyl u.s.a. release is well underway,..(it comes out in september… on koi records)
…and the pop video to go with it will get it's one and only u.k. screening at my next big concert… which is –
friday 31st july – the lowry lyric theatre, salford quays, manchester.
tickets for this show are £7.50 £12.50 & £14.50.
ticket line 0161 832 1111 or box office 0870 4280785
here's some film of aberdeen's first ever bus strike,…. 16th july 2009.
august see's me doing loads of festivals….
1st aug – kendal calling,…
2nd aug – hull comedy festival,…
8th aug – blackpool rebellion punk festival
9th aug – altrincham l.m.r.c.a. club subbuteo festival
21st aug – rhythm festival
22nd aug – brighton wedding present festival
29th – 31st aug – liverpool beatles festival (might be on?)
here's a picture of "rodney marsh" i painted on saturday….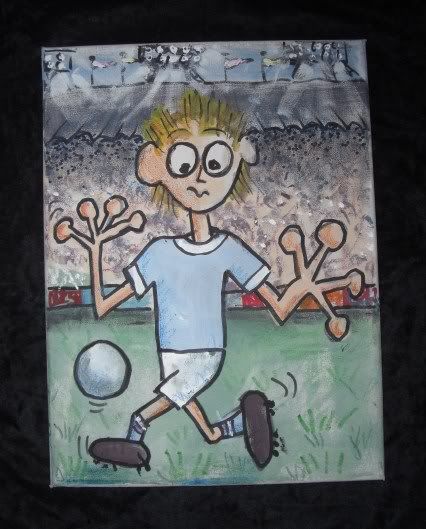 and finally,… here's the aberdeen bankhead acadamey steel band….
best regards
frank sidebottom
p.s.* next radio timperley braodcast is sunday 26th july @ 7pm uk time (2pm in new york etc)
on ~ www.manchesterradioonline.com
and if any bands/artists want their tunes played on it,… read my "airplay" blog on www.myspce.com/radiotimperley