hello fantastic fans,…..
are you ready for this,….
it's a big blog ,… with all the news you'll need,.. (i think!).
first let me say a big thank you to everyone who tuned into my first
"radio timperley" sunday show on manchester radio online….
it was a ace success and the feedback is still coming in !.
(details of how you can get your band played on it coming up).
also a big thank you to all who came to see me at the lmrca club
in altrincham straight after the broadcast,… and thank you to
mr. fantastico and his glamorous-un assisstant who stood in for the
first half of the show while i finished my broadcast.
(more mr. fantastico photo's on my "lmrca shows"
pic's album at www.myspace.com/franksidebottom )
the next lmrca show is on the 12th july,… and remember…
it's a different show every month …. the next one is "christmas" !!!
details from mr. alston on 07966 189650 or 0161 652 1217
coming up concerts include…..
this saturday (20th june) at the brudenell social club in leeds,…
and next month there's,…..
the gasworks in bradford on the 10th, the buffalo bar in london the 11th,
and my big manchester show at the lowry, slaford quays on the 31st.
inbetween all that,…
there'll be my obvious weekly sunday at 7pm "radio timperley" shows,
plus on the 18th july,.. i'm doing a live "radio timperley roadshow" from
kendals shop window on deansgate in manchester….
plus i've got a 3 hour broadcast on newlove fm on the 5th,…
and newlove fm will be broadcasting half hour classic radio timperley's
through the night for a 3 week run (more details to follow).
… and the 4th of july see's me judging (with the lord mayor of alty) the
parade of floats that meander from altrincham to timperley for the fair.
(i'll also be in the parade – on the "radio timperley roadshow" vehicle).
then in august… the festivals start –
kendal calling,… rebellion in blackpool,..the rythm festival,.. and i've
been ask to perform at the "wedding presents" mini-fest in brighton too.
(i supported them at 'southpaw' in brooklyn new york last year – and
they like me ,….. that's good !).
actually,… there's loads more to mention,… like my new "e, f, g & h"
album which is coming out on cherry red records anytime now (31 tracks).
…. and there's the film of me that 'film 4' are making at the mo….
there's the american vinyl only release of "frank saves coney island" ,..
and the germany release of "frank sidebottom salutes the magic of
ron and russel mael" ,….(and the concerts abroad too !).
but they will all have to wait…..
if you would like to meet me ???,… then me and brian (from reema-leema)
will be at the nexus cafe off oldham street in manchester on 27th june,..
for a beatnik tv nught. they will be showing a couple of our films and we'll
be doing a bit of a q & a with the audience,… and then mooching round
and chatting with people… it's free so come along.
best regards
frank sidebottom
www.myspace.com/franksidebottom
p.s. if you are a artist, or band, or singer, or poet, or good at things,…
and you want the have airplay on radio timperley, then here's what you do.
do's -.
… send me a cassette, or record, or reel to reel, or at the most a cd
(as next doors have a compact disc player i can borrow).
to –
frank sidebottom's radio timperley
c/o manchester radio online
park view, manchester, m9 5sh.
don't's – ,….
do not send me a e-mailed track or ask me to "checkout your tunes"
as my speaker doesn't work on my computer…. and my headphones
don't fit ,…. so dont send any mp3's or wav's etc either.
anyone who does,… will be barred from not only being on radio timperley,
but barred from listening to it aswell ,….. and i'll also block you.
but do it right…. and you could be in the "timperley top ten" next week
and getting worldwide airplay…. (and possibly other places too).
full details also on – www.myspace.com/radiotimperley
i just did the liverpool tattoo convention which was fantastic…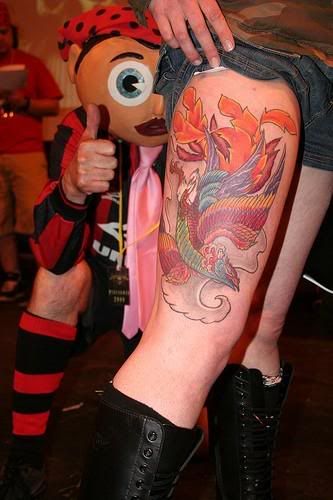 there are loads more pics on www.myspace.com/franksidebottom
… and here's a clip from last months london show
at the lexington with my " oh blimey big band ".
p.s. i forgot to write about my new chanel m "proper telly show in b/w"
sleep-over special with "the smiths" ,….. i'll keep you posted…..
…and also the new merchandise ,….. keep a eye on ebay !!!!!