hello fantastic fans of me and thunderbirds and the u.s.a,…
you just wouldn't beleive the last week i've had,… and that's without unwanted help from my bobbins puppet, little frank !!!
anyway,…i hope you all had a great easter,…. i did !!! until my mum came back on monday,… and went metal with me as i'd not done any of the jobs she'd set me while she was away visiting our auntie in blackpool (she has a guest house there)!…
little did she know that while she was away,… i did a week of fantastic shows in the usa, a brilliant bbc radio broadcast (re-listen on www.bbc.co.uk/radio/aod/networks/manchester/aod.shtml?manchester/manchester_music )… and a ace concert at the l.m.r.c.a. club.
i even brought a bit of the u.s. back with me….
i got little frank's baseball helmet at a carboot sale in masapica park -long island – n.y.c.
but don't worry i don't say….
sidewalk …. instead of pavement !
freeway …. instead of motorway !
mail-box …. instead of postbox !
or semm-eye final ,…. instead of semi-final…
…. and i certainly wont be dressing like i'm dressed in that last clip ! … even thought they do in new york…
…. i.e.
…. no i just dressed like that for my special "salute to gerry anderson and the u.s.a." night at the l.m.r.c.a. club on sunday…. here's another clip,… and another new song…
…. anyway my mum would go balistic …
so,…. i want to say a big "thank you" to everyone who came to see me in new york/philadelphia and the l.m.r.c.a. in alty.
the next one there is on the 10th may,… and i'd book early,.. as they had to get a load of extra chairs and tables out of the other room as it more or less sold out !!!
my next concert is at york city f.c.'s social club (on bootham cresent in york) this friday (17th april) when i'll be doing some more new songs,… and a few old firm favorites aswell.
best regards
frank sidebottom
www.myspace.com/franksidebottom
www.myspace.com/radiotimperley
www.myspace.com/bigshortsfc
p.s. i'll be doing a full new york diary this week on a blog,.. so subscribe now !!! … i'm still collecting all the photo's and video clips to do it in order.. …
but here's another ace photo taken by u.s. fan zan mcquade at "otto's shrunken head tiki bar" in the lower east side in manhattan…..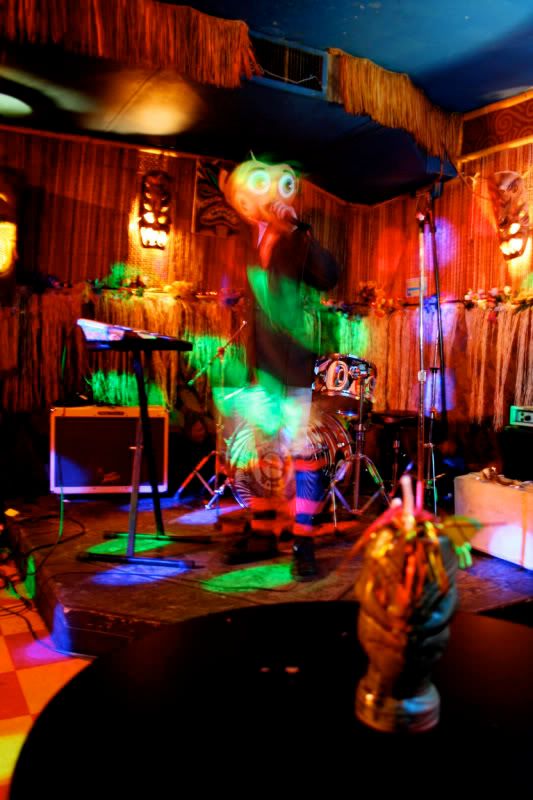 it was the first time she'd seen me,… and said that the whole night seemed like that to her !!!!!
p.p.s. there will be news on the new "frank's world" animations with reema-leema, and the final track listing for my "e,f,g &h" album this week too… plus there'll be some more "radio timperley's" to listen to on www.myspace.com/radiotimperley and there are more new dates being added (see my shows list) plus exciting news for german fans,… and u.s.a. fans too – the return dates are going in already ,… plus some bigshorts news,… plus … no
.. i'll stop now … just keep logging onto franksworld !