hello fantastic "latest news" fans,…
thank you for logging onto my 'franksworld' web site,… i do 2 or 3 blog's a week (puppets permitting !) to keep you up-to-date on my semi-proffesional show-biz-ness career.
i'm off to america next week,… but don't think there will be nothing going on for everyone else in every other country ,… because there will !!!
for a start,… the world wide web will fully open it's doors (i mean screens) to 'reema-leema',… and for those of you who don't know,… i have a 'secret' reema-leema base (a bit like on 'thunderbirds' but not on a island,… just in timperley !!!).
… and it is from this 'secret' reema-leema base that the "frank's world" animations are produced….
…. if you've never seen any…. then here's a clip…
no,… that's not the real morrissey, or elvis, or freddie..
it's just me dressed up ,… well,… it's not even me actually !!! it's a animated model of me ! ,.. and it's part of the the 1st one reema-leema made. (see my pics in the 'reema-leema' photo album on www.myspace.com/franksidebottom ).
anyway,… 2 more episodes are underway (including my vicar with mumps !!!),.. plus some short 10 second animations which you will be able to download onto you mobile phone.. details to follow soon.
right,… dust off that old crystal radio set ..
,… for those of you who don't know,…
i have been producing 'radio timperley' from my garden shed since 1985 ,… it has had link up's and broadcasts with …
bbc radio one – bbc radio 2 – bbc radio 5 – picaddilly radio – siganal radio – bbc radio london – manx radio – radio clyde – tamesside radio – key 103 – and even north manchester hospital radio … to name but eleven,…
and it has helped the radio careers of such disc jockeys as chris evans, martin kelner, mark radcliffe, jim reeve, timmy mallet, iain lee, james stanage, steve penk, geoff lloyd, pete mitchell and mark alston,…. to name but eleven….
well april will see it back on the air in all it's glory,… so stay tuned .. (pun intended,… no not really !)
and if you want to hear radio timperley this week,.. then details will follow on the next "latest news" ,… or subscribe to mymyspace blog – and you'll also get bulletins with stuff other people don't see – like 'secret stuff!')
i've just got some subbuteo goalies off ebay ,…. so i'm off to practice,… and my thunderbirds cards went for £1.66p (that's good !) ,.. i've got some of my 'beatles' gum card swops on there at the mo….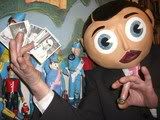 best regards
frank sidebottom
www.myspace.com/franksidebottom
p.s. you can see my "frank's world" animation serialised on my "proper telly show in b/w" (with repeats in colour) every friday night on channel m at ten (sky 203 – virgin media 878) …. but if you live in other countries (like africa etc) there will be a link this week on www.channelm.co.uk which will allow you to watch my "proper telly show in b/w" anywhere in the world … that is good !
here's a clip….
… and you can see the entire "mr. gallagher's boat" episode for free on the big screen in manchester at the "beatnik tv" festival in manchester on 24th may. (see my 'shows' list)